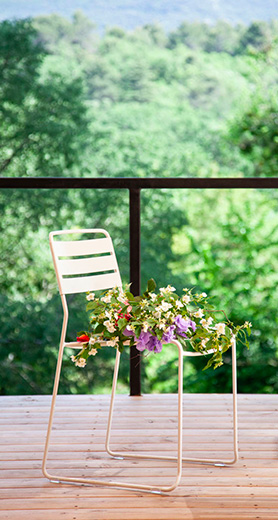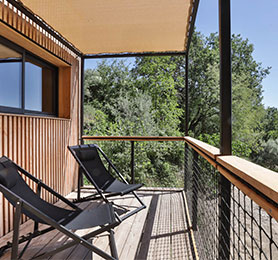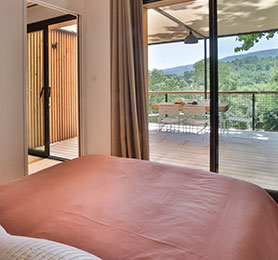 As a parenthesis in time, in the heart of the Luberon, the eco-domain "Les Cabanes de la fontaine" in Lacoste offers you the unusual experience of living in the middle of an enchanting setting.
Nestled between the trees and the source of the village, the hut is a place of tranquility and encourages daydreaming. The cabin built with eco-responsible materials, is made up of a structure in converted maritime containers and French wooden cladding.
Located on old cultivated terraces, it offers a splendid panorama, like an observatory of nature. This exceptional cabin with a contemporary aesthetic offers accommodation for 4 people (two bedrooms), it offers all the comfort necessary for perfect relaxation: a living room with a TV and internet connection, an equipped kitchen , a bathroom with shower, air conditioning, an exclusive wooden terrace, a barbecue, fountain…
Parking on the site is private.
Lacoste – village of the Marquis de Sade – invites you for a stroll and can be visited on foot to discover its hidden treasures.
2021 RATES
Cabin, 4 people
PRICE PER WEEK
– Low season: 800 €
– High season: 1295 €
LOW SEASON NIGHT PACKAGES
(minimum 2 nights)
– Monday, Tuesday, Wednesday, Thursday and Sunday: 130 €
– Friday and Saturday: 160 €
LOW SEASON WEEEKEND PACKAGES
– 3 days (Friday, Saturday, Sunday): € 400
LOW SEASON WEEKLY PACKAGES
– 4 days (Monday, Tuesday, Wednesday, Thursday): € 400
Weekly arrangements from Saturday 4 p.m. to Saturday 10 a.m. (7 days)
Minimum stay in low season: 2 nights
Minimum stay in high season: 7 nights
Low season: from 13/09/2021 to 13/06/2021
High season: from 14/06/2021 to 13/09/2021
CLEANING, BED AND BATH LINEN
The obligatory "cleaning + linen" package of € 50 will be applied to each stay reservation (week, weekend formula, week formula and overnight stays). In the event of a stay of several weeks, the cabin is cleaned once a week. Bed, bath and kitchen linen is provided and changed once a week also for the sum of € 50 per week.
MEAL
The rental does not include meals, the cabin has an equipped kitchen.
DEPOSIT
Bookings are only considered fixed if accompanied by a deposit worth 25% of the rental amount. If the tenant withdraws from the contract, the amount returns to the lessor, in the event that the cabin cannot be rented otherwise.
PAYMENT
The rest of the rent is payable three weeks before the start of the stay. (We recommend that you take out insurance covering cancellations). Costs retained in the event of cancellation (% of the rent): 3 weeks before the stay = 60%, 2 weeks before the stay = 100%, 1 week before the stay = 100%. If the house can be rented otherwise, the rent is returned to the tenant in deduction of a flat rate of € 300, plus any costs for announcements.
BAIL
The sum of € 300 will be deposited on arrival in cash. In the event of any damage, the amount of the repairs will be deducted from the deposit, the difference returned to the tenant.
Les Cabanes de la fontaine, 401 Route de bonnieux, 84480 LACOSTE
Gaspard et Maële LAPELERIE, 0670688428